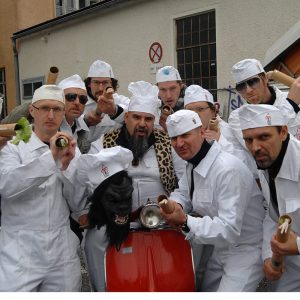 Chefs with Wieners: On Masculinity, Local Culture and Culinary Art
The circular hole is ablaze. Tongues of flame dangerously shoot out from the center. A radical abstraction of the St. Gotthard 2001 tunnel fire? A logo symbolizing a catastrophy? Not really. One can also identify the outlines of a chef's hat that surround the circular hole. Advertising for the eccentric barbecue-shack situated on the outskirts of Tijuana, where x-rated donkey-shows are staged? No. Rather, this is the bizarre visualization of the badge of Cooks of Grind (CoG), an assembly of male chefs which, since 2001 have quickly gained reputation through "artificial cooking events" at which, for example, one can participate in (post-game) beer showers and at which "Photomontages" and "Magical Rock'n Roll Food" are served. Their clients? The "Messiah of Lend", the soccer players of Jakominigürtel in their black or white dress or hippies longing for nostalgia.
Cooks of Grind. A collective of roughnecks. Twelve in number. But the truth is: They are not really rough. No doubt, however, that their minds are filled with dirty thoughts, mischievous wit, love for art and the guts to bring together things that usually do not belong together. Furthermore, they share a passion for heavy metal music, a love to experiment (together with a distinct aspiration for breaking taboos), an uncontrollable stream of creativity and the desire to establish a subculture of culinary delight. Long before the commercialization of polished and high-budget cooking shows, Cooks of Grind have already rattled their pots and pans for the sake of self-expression.
Adhering to their mobile kitchen philosophy, Cooks of Grind cook up on the mangy car park of a former coalfield in eastern Styria, in the exhibition space of the Forum Stadtpark, at the annual University ball, at street and design festivals that celebrate a new creative quarter of the city. One of the chefs' trademarks is the "Hot Dog Machine", an automaton that, in a low tech manner, assembles buns and wieners. An objet d'art that produces hot dogs as delicious as those served at Pink's in Los Angeles, synonymous with Home of the Best World's Chili Dog. No kidding. Go and ask George Clooney.
Cooks of Grind feel at home in local taverns, places where they can pimp up traditional dishes such as Leberknödel and Schnitzel. Grammelschmalzbrot instead of scallops. Fake calamari (wieners) instead of dull salmon carpaccio. 'French fries black & white' for avid "Sturm" football fans who after attending the art exhibition 'Jahrhundertsturm' get together and pig out in the Cooks of Grind culinary headquarter, called "Kombüse" located in the Erzherzog-Johann-Allee in Graz. Its rustic and convivial atmosphere has recently inspired Gunter Brus to intone an improvised duet with Evel Knievel, frontman of the garage-punk & rock'n'roll band "The Staggers."  The "Kombüse" is a place very down-to-earth but still sensuous. It is a laboratory of creative urges for those who chose "Male Chefs Cooking for You" as their motto.
The name Cooks of Grind recalls the lines of a song by Sigi Maron, chairbound protest singer and songwriter. In "Da Hausmasta" it goes: hobts denn ka fantasie/spülts eich so wia i/ mi gespült ob ois a kind/ mit mein zechnkas und mit mein eignen grind" Grind translating into scab. Melancholy meets wit. Speaking of "Zechnkas" (toe jam), the "Fake Zechnkas" would be more than appropriate to become the name of a CoG dish. "Fake tit" has already made it onto the menu. The ability to defy conventions but still being able to remain within the limits of embarrassment is certainly one of the strong points of this male culinary force. Cooks of Grind stand for much more than just honky-tonky entertainment. They use their brains, stomachs and souls for performing a culinary counterstrike against the artsy smart set and, in particular, their paralyzed palates.